Archives by date
You are browsing the site archives by date.
By Melissa on September 15, 2009
We are often asked why bother doing both…our answer is why not? Well, both don't work for everyone, but they work for many. Of course your business needs to plan out your marketing strategies for the next month, 3 months, 6 months etc. Then you need to determine how to bring in potential clients/customers and […]
Posted in Blogging, Internet Marketing | Tagged Email Marketing | Leave a response
By Melissa on September 15, 2009
I am married to someone in the printing business so it doesn't make me happy to say that the need for print advertising is lessening everyday. Website advertising is effective and can be less expensive. However, my web designer and I were discussing how many of the sites today look alike. As far as WordPress […]
Posted in Google | Tagged Google News Fast Flip | Leave a response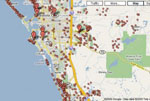 By Melissa on September 14, 2009
Search engine results can be filtered by region or location. Search engines can display these results based on the searcher's location or search phrases that include location. Local search results can include more than just your site or your blog entries, they can also display maps, reviews, driving directions, pictures, related sites and more. There […]
Posted in SEO, What is/Are? | Tagged local search | 1 Response
By Melissa on September 8, 2009
Two Classes in one day- you can pay for either or get a discount on both. There are no free entries for these classes. We charge A LOT of money to set these things up for clients. You will find out how to do it yourself for about a tenth of the cost. 1st Class […]
Posted in Blog Business | Tagged Class, Email Marketing, local search | 2 Responses
By Melissa on September 3, 2009
As a Christian I feel uncomfortable using the BS word, but there is no other, so here it goes. Bottom line, do your job and if you can't do it get out of the industry! I may be a complete moron, but I really feel obligated to do a good job for my clients. In […]
Posted in Blog Business | Tagged Business, SEO, Web Design | Leave a response
By Melissa on August 28, 2009
More information at Bruce Clay's Blog.
Posted in Google, SEO, Video | 1 Response
By Melissa on August 25, 2009
We are about a week away from our SEO class at the Keiser College Auditorium on September 02, 09 at 9:00am. People have been asking us what will be discussed. Here is a brief rundown: Website Coding- What works, what doesn't URLs Meta tags – Title Tags, Meta Descriptions H-tags Content – what helps, what […]
Posted in Blog Business | Tagged seo class | Leave a response
By Melissa on August 22, 2009
On the weekends I google and I google A LOT! I like to see what has changed in my geographic location and I like to see who is and who isn't focused on Internet marketing and SEO. Doctors, Medical Groups, Clinics and service providers in Sarasota are not really focused on SEO, Internet Marketing or […]
Posted in SEO | Leave a response