Melissa
By Melissa on November 20, 2009
Think about this for a second. Not being able to find a business's website can scare away potential customers AND employees. How scary is that? Employers already find it a struggle to attract, retain, nurture and sustain the best people. Your employees are your most important resource to making your business successful. Knowing that your website, or the inability to find your website, can prevent your business from attracting employees is horrifying.
Posted in Blog Business | Leave a response
By Melissa on November 20, 2009
Google's Matt Cutts answers this question. I think this is very important for Realtors to pay attention. Many of them tell me often that they insist that any news articles about them must be linked to. Here is information from Google…
Posted in Video | Leave a response
By Melissa on November 19, 2009
Here is a video by Go0gle's Matt Cutts discussing this issue. We think it would be informative for those that are just discovering what SEO can do for their websites.
Posted in Video | Tagged matt cutts | Leave a response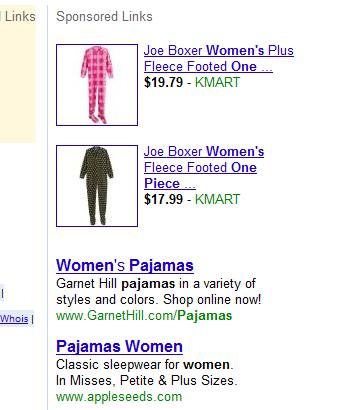 By Melissa on November 14, 2009
I have never seen it before so I thought I would post a pic. I will say that it was a very specific search term. Maybe it has been happening for awhile…maybe it is a glitch, but I live on the net and this is the first  time I have seen it.
Posted in Google | 2 Responses
By Melissa on November 13, 2009
Out of all the meetings I have had the last few weeks one thing keeps repeating and I think it is important to share with you the things we evaluate before creating an Internet Marketing plan for a client. Your website is your foundation. It is like the concrete foundation of your house and is […]
Posted in Blog Business | Tagged Internet marketing | Leave a response
By Melissa on November 11, 2009
We know how much you give up to give us the nice life that we have. We get to go to sleep feeling safe. We owe you so much. (sorry this didn't publish earlier.
Posted in Video | Leave a response
By Melissa on November 2, 2009
I am going to go a bit off topic here and tell you about a fantastic experience we had last night; remember I am a geek. We went to Star Wars in Concert and it wasn't just fantastically amazing because I am a Star Wars fan; it was amazing because the Royal Philharmonic Orchestra was […]
Posted in Blog Business | Tagged Concert, star wars | Leave a response
By Melissa on October 30, 2009
For the past few days perhaps a week, I have been seeing changes. Our site has changed a lot this past week. All of our internal pages that had page rank lost it, even our blog, according to the toolbar. Now all of our older pages have PR, according to the toolbar, and we have […]
Posted in Google | Leave a response
By Melissa on October 22, 2009
Just a short list. Feel free to add more… You have looked at Facebook on your computer and your iPhone/smartphone at the same time. You look at things and think "I should take a pic of this for Facebook" (We use to take pics for memories). Sexual relations are not as important as they were […]
Posted in Blog Business | Tagged facebook | 1 Response